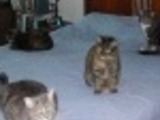 Wow, this looks interesting! Posted for Zaar World Tour 2005. Comes from a cookbook of countries along the Danube. This recipe is from the Czechs. You could probably try using 24 dried half apricots if fresh are not available. It would affect the texture more than the taste. There seems to be a large dough to apricot ratio, but I have not tried this yet. Cook time includes chill time.
Directions
Boil potatoes in large pot of water, drain and refrigerate for 12-24 hours.
Peel and grate potatoes and place in large bowl. Add eggs, salt, flour and baking powder.
Knead dough until it is firm and set aside.
Half and pit apricots and place a lump of sugar where pit was.
Divide dough in 12 pieces and wrap firmly around each whole apricot. Make sure dumplings are well sealed.
Drop dumplings in 4-6 quarts boiling water and cook for 15-20 minutes. Remove to platter and sprinkle with butter, if desired.
Reviews
Most Helpful
They were alright. The dough really overpowered the apritcots and they had a powerful potato taste that i didnt expect. Next time I will cut down on the potatos and add peaches instead, but they were easy to make and not too bad
I was born in Czech Republic and this is one of my favorite meals. I like it even more with plums. You can fill the dumplings with meat as well, either smoked cubed meat (cooked) or ground pork mixture (pork, garlic, marjoran, salt, pepper, egg), top with saute onions. My husband who grew up in Arizona loves the meat version.
Yum! I made a half recipe, using canned apricots. These really expand and are very filling, so I would plan on one per person. I skipped the butter, and sprinkled with cinnamon and sugar. A delicious, warming dessert. Thanks!