Pork Tenderloins Stuffed With Dry Tomatoes
RonaNZ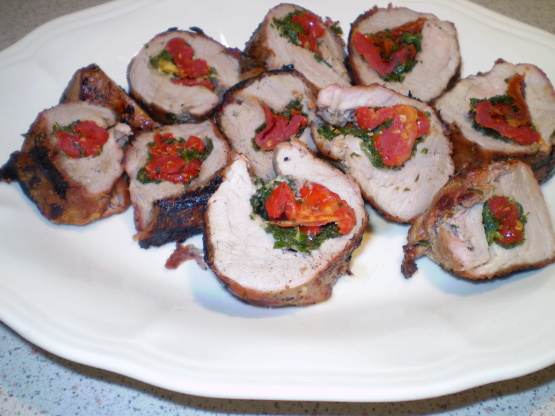 This comes from the issue of June 2006 of Coup de Pouce. This is something healthy, express and can be done on the barbecue.

Top Review by RonaNZ
Great simple recipe with impressive results. I oiled the meat and turned just once so it didn't even need much in the way of attention and didn't stick the the barbecue. I served this with stir-fried veg but I think it would be better served with a tomato-based veg dish like ratatouille or just a salad. The Asian flavours conflicted with the parmesan and sun-dried tomatoes, which were delicious. Another hint, count the toothpicks when you put them in. I missed one!
Cut pork tenderloins in half lengthwise, leaving an intact edge. Open the tenderloins in two and sprinkle with parmesan, parsley, salt and pepper. Sprinkle the center with dry tomatoes. Roll up; secure with tooth-picks.
Set the barbecue to medium-high heat. Put pork tenderloins on greased grill. Close cover of barbecue and cook for about 18 minutes or until the meat is lightly pink inside (flip the tenderloins from time to time).
Put pork tenderloins on a chopping board and cover with foil paper, without holding tight. Let rest for 5 minutes. Remove tooth-picks and cut in slices.