IngridH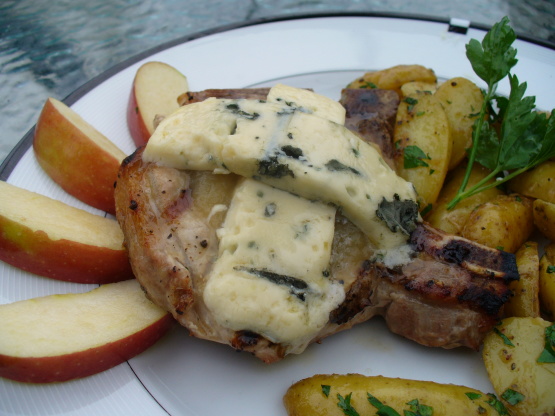 Succulent, broiled pork chops with rich, creamy, melted blue cheese - ready in less than 30 minutes.

These were very good. I think the applesauce helped keep the pork moist, while the cheese added a completely different dimension of flavor. DH is not an applesauce fan, and asked if he could have his without- so we made one each way and both concluded that the one with the apples was better. Instead of broiling, we made these on the grill, added the sauce and cheese just before the chop was done, then closing the grill to melt the cheese. We both agreed that next time we would cut the cheese back to half the amount next time, it's very strong flavor became overwhelming by the end of the chop. Thanks for posting! Made for ZWT6.
Turn on the broiler. Season the chops on both sides with a good sprinkling of salt and pepper.
Broil under a moderate heat for 12-16 minutes, turning once, until just cooked.
Add the topping. Thinly slice the cheese (don't worry if it breaks up a bit). Spoon the apple sauce over the chops and top each one with a couple of slices of cheese.
Slide back under the broiler for 2-3 minutes until the cheese is melted and tinged brown.
Serve with mashed potatoes and a green veg such as leeks or broccoli, and with any melted cheesy bits from the bottom of the pan.