jrusk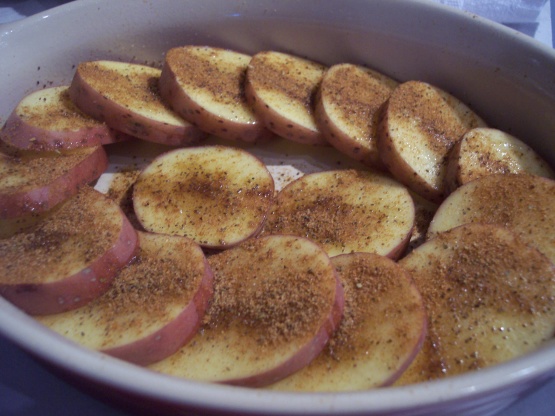 I call them pointless because it's really pointless for me to make them any other way. Nothing fancy here but this is how we like oven potatoes. Overlapping the slices results in the spicy side being crispy and the plain side softer. Easy to grab and dunk the other side in ketchup. If you want them all crispy spread them out. Also works well wrapped in foil on the grill. Picture I posted is before cooking; I forgot to take another.

Easy -- no chunking the potatoes, no flipping them halfway through. I like the convenience of flat slices. I actually ended up using Montreal Steak seasoning and a little garlic salt instead of the Old Bay (because I didn't have any). Thanks!
Preheat oven to 450 degrees Fahrenheit.
Wash potatoes and slice into discs.
Spray pan with non-stick spray.
Place potatoes in pan (I overlap them).
Drizzle with olive oil.
Sprinkle with Old Bay. (I use a lot).
Bake for 30 to 40 minutes or until desired crispiness.