Karen..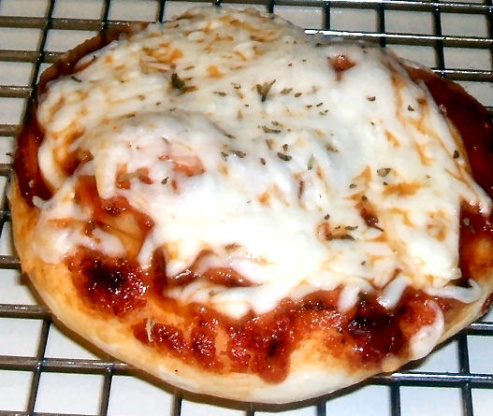 We used to be able to buy these from a local bakery, but I can't find them anymore. My daughter was going into withdrawal, so I came up with these. They are great to store in the freezer...nuke them for a couple minutes and you have a quick snack or lunch! (Rising time included in prep time)

I made these for lunch today and my family and I loved them (especially my daughter). I used a 1 lb. bag of Trader Joe's pizza dough and Pastorelli pizza sauce. Sprinkled the sauce with a little Italian blend seasoning. Mine took about 8 minutes longer to bake but I think that's because my prezel twisting skills are a bit amateurish and my prezels ended up looking like baseballs. With a little practice, I think I can get these a bit flatter. They were very delicious, baseballs or not! Thanks for this recipe Karen, my daughter took 2 of them back to her dorm with her!
1

lb pizza dough (homemade or store bought)
1⁄4 cup pizza sauce (homemade or store bought)

4

ounces provolone cheese (1 oz. slices, or you could use mozzarella)
oregano or italian seasoning
Divide pizza dough into 4 equal pieces.
Roll each piece into a rope, 18-24" long.
If you must use flour, use sparingly.
Form each rope into a pretzel, pressing the ends of the rope into the dough so it doesn't untwist.
Place on sprayed or greased baking sheet, leaving space around each pretzel.
Cover and let rise until almost double, about 1 hour.
Preheat oven to 400*.
Gently spread about 1 tbl of pizza sauce onto each pretzel, allowing some of the sauce down into the holes which have probably mostly closed up.
Sprinkle with oregano if desired.
Bake for 8-10 minutes, until bottoms are a darker golden.
Immediately place a slice of provolone onto each pretzel.
At this point, I allow them to cool, pack each one in a baggie and then refrigerate or freeze.
From the fridge, you'll probably need about 1 minute in the microwave; from the freezer, 1 1/2 to 2 minutes.
To enjoy right away: turn oven off and place pan back in until cheese starts to melt.