Nimz1466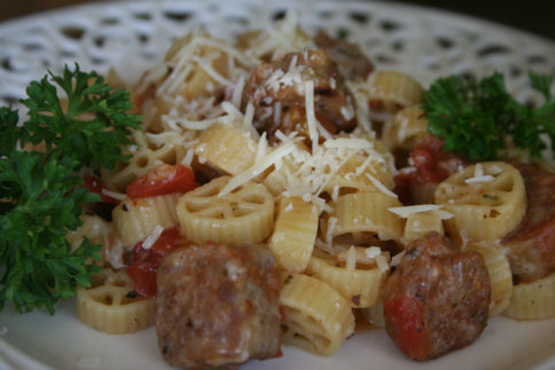 Here's a quick, inexpensive supper that even kids can enjoy! It's basically a powered-up goulash.

Not bad for a quick fix on a week-nite. I cut the recipe in half as there were only 3 of us. I didn't use the diced tomatoes, but used the canned Roma tomatoes. I was also too lazy and just used the loose sausage w/o making meatballs. I also added a 6 oz can of tomato paste, just for a little heavier sauce. Thnx for sharing your recipe, TJ. Made for PAC Spring 2010 Orphanage.
Slice sausage into little rounds (about 1/4 inch thick) and cook in large skillet over medium-high heat -- or if using loose sausage, form 1" meatballs and cook until no pink remains.
Throw diced garlic cloves and onion in final few minutes of sausage cooking.
Add tomatoes, water, seasoning, and pasta. Bring to a boil, reduce heat, and cover skillet. Follow pasta cooking instructions (ranges between 8-15 minutes, check package).
During final minute, add cheese and parsley, cover skillet, and finish cooking pasta.
Great with crusty bread and a salad!