Debber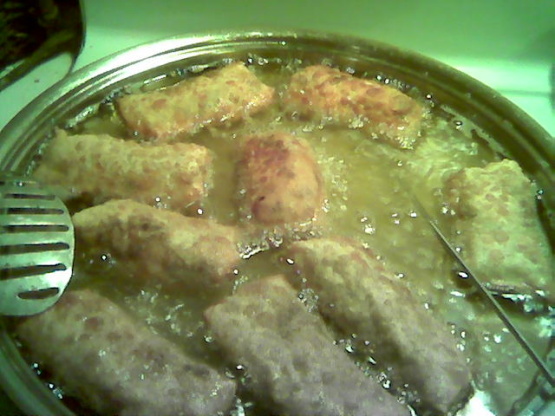 The crisp wrappers and flavorful pizza filling make these taste so good.

These were great! We subbed a lot: pepperoni for the sausage, red pepper for the green, and wonton wrappers for the egg roll wrappers. We also added black olives, and used sour cream for dipping. YUM!
In a large skillet, cook the sausage, green pepper and garlic over medium heat until meat is no longer pink; drain.
Stir in the tomatoes, tomato paste and seasonings.
Bring to a boil. Reduce heat; cover and simmer for 10 minutes.
Uncover and simmer 10 minutes longer. Remove from the heat; cool for 20 minutes.
Stir in cheese.
Place 1/3 cup sausage mixture in the center of each egg roll wrapper.
Fold bottom corner over filling; fold sides toward center over filling. Brush remaining corner with egg; roll up tightly to seal.
In an electric skillet or a deep fryer, heat 1 inch of oil to 375*.
Fry egg rolls in batches for 1-2 minutes on each side or until golden brown. Drain on paper towels.