Pili-Pili Zucchini--Oww Hot!
Bergy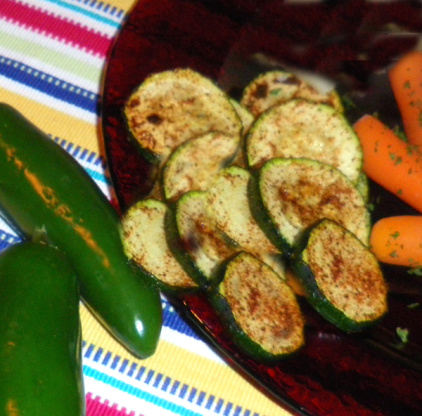 I love hot food and this has caused me to become addicted to zucchini. Here in France, while rummaging around my cupboard, I found a bottle of spice marked "Piments de langue d'oiseau--Pili-Pili). I said hmm, looks like paprika, and threw a whole bunch on my zucchini. Turns out pili pili is sorta hot. But, boyyyyy, is it good! I have no idea what this would be in America or if you can even get it, so you could probably sub a mix of hot paprika and cayenne. But pili pili, which is from Africa and just means "pepper pepper" is the best. *NOTE* I do not measure when I cook. So this is just guesstimated for the 'Zaar computer. I go 1 zucchini per person (small zucchini, not the baseball bats!) and however hot you want it.
Heat olive oil in non-stick pan.
Dump in zucchini.
Sprinkle with pili-pili and pepper. Toss.
Run and get a kleenex to wipe your nose and eyes from the wildly hot fumes given off by the cooking zucchini.
You can even open a window.
When zucchini are tender/goldeny, remove and enjoy with just about anything.