Ms B.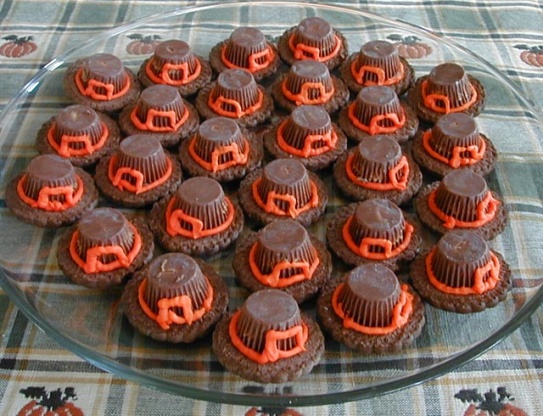 a cute little Thanksgiving decoration that is easy and the kids will love to make. I found it in Womans day and I will be making these this weekend and will post a picture. Can be made up to three days ahead and stored in an airtight container at room temperature.

Quick, cute, easy birthday snack for my 4th grader to take to school. She was able to do 2/3 of them all by herself. I had oreos on hand, and peeled the cream out and used tinted, melted white chocolate instead of icing. It worked great. Thanks for posting
16

chocolate wafer cookies (such as Nabisco Famous Chocolate Wafers)

120.48

g container orange frosting, tube with piping tips (I bought Betty Crocker be careful not to get the gel frosting)

16

miniature peanut butter cups
Place cookies on work surface; squeeze a dime size dot of frosting in the center of each cookie.
Unwrap and invert peanut butter cups on frosting, press down gently.
Let dry overnight or at least 10 - 15 minutes until frosting is set. If drying overnight please store in an airtight container so the cookies do not get soggy.
Using round piping tip or writing tip, (if you don't have tips you can make your own frosting, put it in a ziplock sandwich bag and just cut the corner of the bag) pipe a hat band (single line) with frosting around the peanut butter cup and a square buckle.
Let frosting set before storing.
My son insists we should use yellow frosting so it would be correct but I think the orange that the directions call for looks nicer than yellow.