Pierogi and Vareniki Dough
PanNan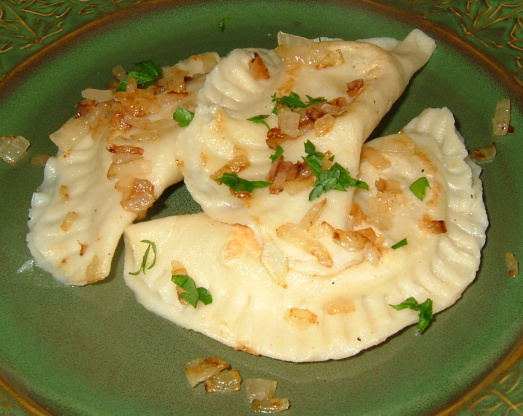 The best pierogi dough ever! The dough is very easy to work with and does not break when boiling. The addition of the cake flour makes all the difference, they come out soft and wonderful. Dough may be made 2 hours ahead, wrapped well in plastic wrap and chilled. Bring to room temperature before using. Makes enough for about 48 pierogies or 32 varenikis. Cooking time is fridge time.
Top Review by KaraRN
Made these yesterday evening for Christmas with the family. Mine came out very tough. After getting home and reading the recipe again, I am thinking there may be something missing out of the directions. Perhaps they needed to be refrigerated after covering with the plastic wrap. When reading the recipe again tonight, I see that it says to bring it back to room temperature in step 5, but no where did I see that it needed to be refrigerated. I however do like the flavor of the dough, therefore, giving it 4 stars. Reviewed for 1-2-3 hit wonders tag game 2007D.Thanks for posting Kitten.
Stir together flours in a bowl. Make a well in flour and add eggs, salt, and water, then stir together with a fork without touching flour. Continue stirring, gradually incorporating flour into well until a soft dough forms.
Transfer dough to a lightly floured work surface and knead, adding only as much additional flour as needed to keep dough from sticking, until smooth and elastic, about 8 minutes. (Dough will be soft.)
Cover with plastic wrap and let rest at room temperature at least 30 minutes.