Panzer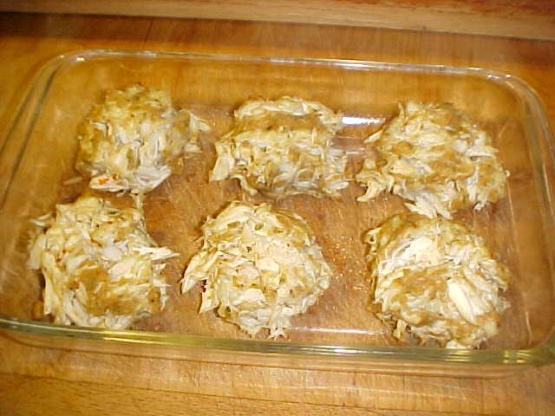 A DELICIOUS crab cake recipe I can't take credit for, it was on the Phillips crab meat, which I was happy to find in California. Very easy, and very good.

Top Review by EthelP
I prefer this recipe to the Old Bay one by far. Just a hint - use sour cream instead of the mayo (icky poo, barfy warfy!), double or even triple the Old Bay, use Dijon mustard instead of that icky yellow ballpark stuff, and use Italian breadcrumbs instead of regular. Don't mix too much or your lumps will turn into clumps. Also, baking them at 375 for 10 - 15 minutes makes them nice and crispy, but without all the added fat.
In a medium mixing bowl, combine all ingredients except the crab meat.
After mixing ingredients, add crab meat and mix together well with a spatula.
Form into desired size cakes, I get 6-8 from this recipe.
pan fry on each side over medium heat until golden brown (about 5-7 minutes each side) Serve with desired sauce, I mix together a little mayo, ketchup, old bay, and vinegar, but that's just a personal thing.