Pesto Penne With Roasted Chicken
Hey Jude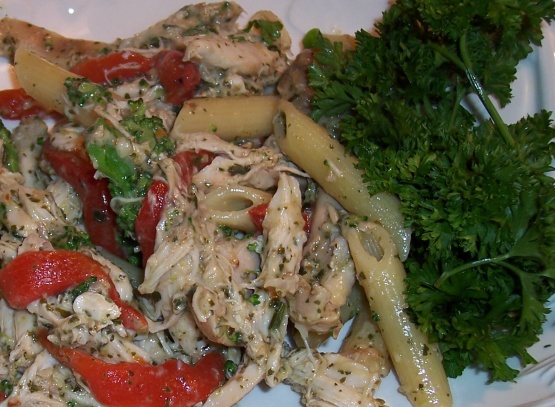 One quick stop at the grocery store on my way home from work and I can have this on the table 20 minutes after I arrive home! Recipe is from Midwest Living magazine.

Tasty but missing some spice! Easy to follow too.
Cook pasta according to package directions, adding broccoli the last 2 minutes of cooking; drain, reserving 1/2 cup of the pasta water; return drained pasta and broccoli to saucepan.
In a small bowl, combine pesto and the reserved pasta water.
Add chicken, roasted red sweet peppers and pesto mixture to pasta in saucepan; toss gently to coat; heat through over medium heat; add 1/4 cup cheese to pasta mixture and toss to combine.
Divide among 4 pasta bowls and sprinkle with additional Parmesan cheese if desired; top with ground black pepper and serve immediately.