Pepper and Cheddar Shortbread Canapés With Smoked Salmon
twissis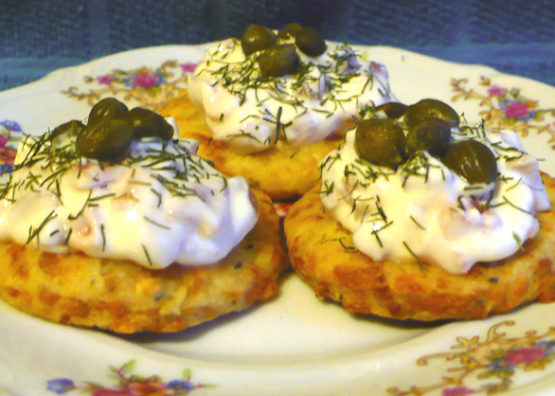 Here's a savoury shortbread appetizer that would be perfect for a celebration such as Christmas or Thanksgiving. This recipe was published in the Dec 19,2007 edition of the Toronto Star.

Made for ZWT-8 Family Picks because all things w/smoked salmon are twissis-magnets. This recipe is so yummy that I can hardly find words that do it justice. It is much easier to make than the directions make it appear. The shortbread dough is very easy to work with & that makes the entire prep go very fast. I made a half recipe & my yield was more than expected. Maybe I rolled the dough thinner than the recipe specifies & that may be why my cook time was shorter at 18 min for done perfectly. I used a generous amt of lemon pepper (an excellent choice combined w/the cheddar cheese & smoked salmon flavours). I couldn't find any decent-looking dill sprigs, so I just sprinkled dry dill on top of the canapes & added the final touch of some "baby capers" that are popular here in Iceland to use w/smoked salmon. This is clearly 1 of my favourite recipes of the Tour. The taste is great & presentation impressive. Thx for sharing this recipe w/me so I'll be able to share it w/our friends. Yum! :-)
Line 2 baking sheets with parchment paper.
Stir flour and pepper together in a medium-sized bowl.
Using an electric mixer on medium speed, beat butter in large bowl until fluffy (about 2 minutes).
On low speed, beat in cheddar until just blended.
Using a wooden spoon, gradually stir in half of flour mixture, then milk, then remaining flour mixture, until moistened (batter will be very thick).
Turn out on to a pastry board or the counter and finish mixing with hands and pat into a disc shape
Place disc between 2 sheets of waxed paper and roll out to about 1/4-inch thick, or about 12 inches in diameter.
Using a 2-inch cookie cutter (preferably with decorative serrated edge), cut out rounds and place on prepared baking sheet.
Re-roll scraps, cut out rounds and place on prepared baking sheet.
Bake in 2 batches.
Place each baking sheet in centre of preheated 325F oven.
Bake until are golden and puffed, about 20 minutes.
Cool for 5 minutes before transferring shortbreads to rack, using a metal spatula, to cool to room temperature.
In medium bowl, stir together sour cream and salmon.
Spoon rounded teaspoons onto centre of each shortbread.
Garnish each shortbread with a dill sprig.