alligirl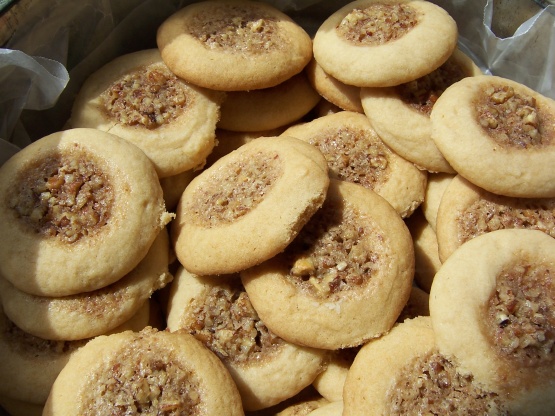 This recipe came from the inside of a Land O Lakes butter package.

I love this recipe! The cookies do indeed taste exactly like a pecan pie-without all the work/time. I ran out of the filling and made 4 "plain" cookies and even they were amazing on their own! I also used 1/2 & 1/2 cream as I didn't have whipping cream in the house & they still turned out amazing. I guess I was making the well to deep because when I'd go to remove them from the sheet the center wanted to stay behind. I let them sit for about 5 minutes to let the sugar set. They came off fine that way & if a few didn't come off perfect, you can "re-position" them with your fingers on the drying rack and as they cool down they turn out perfect. SOOOO YUMMY! Thanks for posting.
Preheat oven to 350°F.
For cookies: Beat butter and sugar on medium speed of an electric mixer until creamy. Add egg and vanilla and mix. Reduce speed to low and add flour and baking powder. Beat until well mixed.
Shape dough into 1 1/4-inch balls. Place 2 inches apart on ungreased baking sheets. Make an indentation in each cookie with your thumb; rotate thumb to hollow out slightly.
Combine all the filling ingredients (pecans through vanilla) in a small bowl. Fill each cookie with 1 rounded teaspoon of filling.
Bake for 8-12 minutes or until lightly browned. Cool for 1 minute on baking sheet then remove to cool completely on a wire rack or sheet of aluminum foil.