Pear, Kiwi, Berry, Flax Seed Smoothie
Rita1652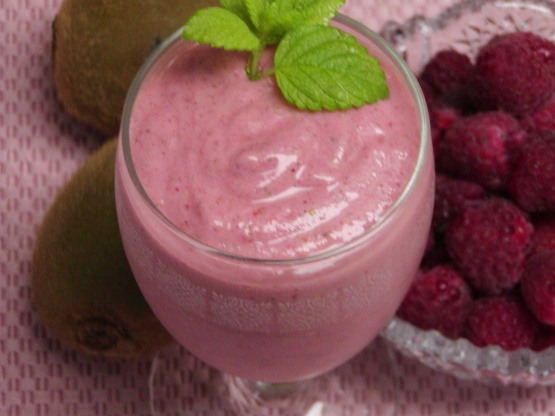 I use a Vita-Mix for this. If you are using a blender, grind the flax seed and bee pollen in a coffee grinder first. This is thick - you can eat with a spoon or drink down with a straw. Flax is very high in lignans which have anti-tumor properties, antioxidants of 800 ppm and could mimic the results of Tamoxifen ---- the anti-cancer drug for breast cancer... with NO side effects! Flax is one of the richest sources of valuable omega-3 fatty acids about 50% of its fat being omega-3's, almost twice as much as fish oil! which lower high blood cholesterol and triglyceride. Omega-3's decrease the probability of a blood clot blocking an artery. They are necessary for visual function, sperm formulation, brain development, and adrenal function. It will lower high blood pressure, and help to decrease allergic response, and may help inflammatory conditions, lower the insulin requirement of diabetics and have been used in the treatment and prevention of arthritis, asthma can be relieved, omega-3's dissolve tumors. Flax is also a great source of fiber. 25-30 Grams of fiber reduces chances of colon and breast cancer. Try it you'll like it. Tastes good and it's good for you!

I tried this with fresh strawberries, 3/4 pear, 1/2 banana and added 1 T protein powder and a bit of honey. It was very flavorful, but not cold, so I added some ice and that diluted the flavor, so next time, I'll use frozen berries as stated. Never thought of making a smoothie without added liquid. I used my immersion blender and it worked great! Update: I tried this with homemade kefir (need to find more recipes, as you end up with it every day!) and it came out like a tangy, fruity smoothie.
1⁄2 cup yogurt

1

kiwi, skin removed

2

teaspoons flax seeds

1

teaspoon bee pollen (optional)
1⁄2 cup of frozen berries, of your choice

1

pear, skin and all quartered
Place ingredients in order starting with yogurt and ending with pear into a Vita-Mix or blender. Process till smooth and creamy.
If using a blender grind seeds in a coffee grinder first.