Peanut Butter Bars Taste Like Reese's Cups
Amy020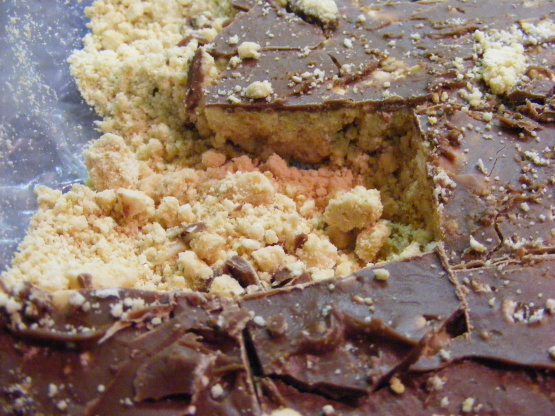 A good recipe to use for Christmas goodies Very easy to make Edited the recipe to increase the butter as I typed it with too little butter. If your graham cracker mixture is too crumbly add a little more melted butter or decrease the powdered sugar a little bit.

I put this in a 9x13 pan when I made it late last night. I think I would like it with a bit more peanut butter and a little less sugar. I crushed one package (of the 3 in a box) of graham crackers and it was just about a half cracker too much. Mine did crumble a bit but not too bad, I think that happened when I made these using a different recipe too.
mix together powdered sugar, butter, peanut butter and graham cracker crumbs.
line cookie sheet with parchment paper.
Pat the peanut butter mixture on to the parchment paper.
melted chocolate chips in microwave 20 sec at time stir and microwave more until melted.
pour over peanut butter mixture.
Refrigerate till set and cut into bars.