xclentc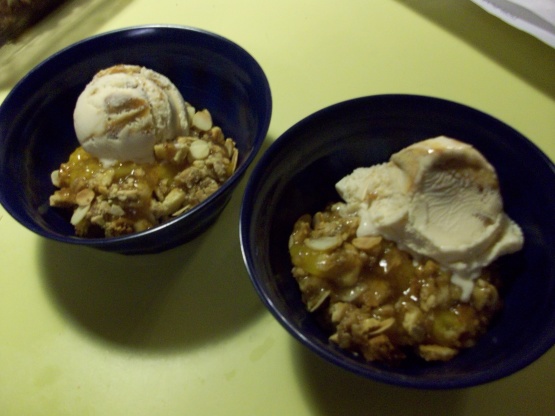 I found the original version of this recipe on the Walmart website, I changed a few ingredients and came up with this. This is a very easy recipe that quickly comes together, plus you can adapt it to a variety of flavors. It is quite yummy, especially topped with ice cream or whip topping. The original recipe was using apple pie filling, it was good also. I also have an idea to use strawberry or cherry pie filling and chocolate poptarts to make a black forest poptart crumble. The kids love it.
chop or crumble poptarts into small pieces in medium size mixing bowl, add almonds and melted butter, mix and set aside.
In a 8 x 8 glass pan stir pie filling, lemon juice, cinnamon and brown sugar.
Sprinkle crumb mixture evenly over top of filling.
Bake in overn at 350 degrees for about 25 mins or until bubbly. Serve warm with whip topping or ice cream.