vclee721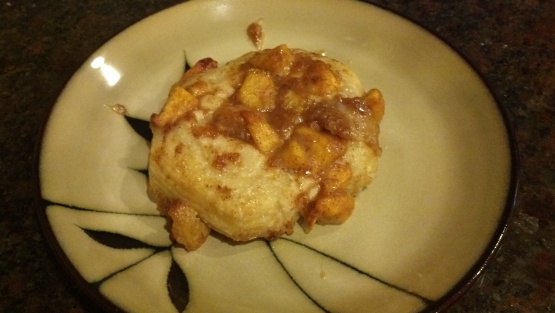 Ready, Set, Cook! Reynolds Wrap Contest Entry. Summertime just isn't complete without some peach recipes. This is one you will thoroughly enjoy. The flaky butter flavored biscuits really adds an extra layer of flavor. These are best served warm out of the oven or even reheated in the microwave. Enjoy!
1. Preheat oven to 350 degrees.
2. With a hand mixer, combine the cream cheese, sugar, vanilla, and powdered sugar until nice and smooth.
3. Peel and cut-up your peaches into small pieces- not too chunky.
4. Combine in a medium sized bowl the honey, lemon juice, 3 TB of the brown sugar, flour, cinnamon, and nutmeg. Add the peaches and stir.
5. In a small bowl, mix the remaining Brown Sugar and the softened butter or margarine.
6. Tear 8 squares of Reynolds Wrap foil off the roll.
7. Spray each piece of foil in the middle with some non-stick cooking spray.
8. Place one biscuit in the center of each foil. Using a spoon or your fingers, make a well (indentation) into the middle of each biscuit.
9. Spread about 1 tsp of the butter-sugar combo around the lip of the well on the biscuit.
10. Place about 1 to1 1/2 Tablespoons of the cream cheese mixture into the well of each biscuit.
11. Place 1 large spoonful of the peach mixture over the cream cheese mixture.
12. Bring the sides of the foil up around each biscuit to make a bowl like form. DO NOT fold over the biscuit. This will keep all the liquids from running off of the biscuit (in other words it will keep all the good flavors together on top of and around the biscuit).
13. Place each "bowl" one of 2 cookie trays- I can fit 4 comfortably on the bigger ones I have.
14. Place in oven for 22 minutes or until the biscuit is golden brown on top.
15. Serve warm. These even taste great heated up in the microwave the next day.