Paula's Easy Homemade (Tastes Like Fresh) Salsa
Bayhill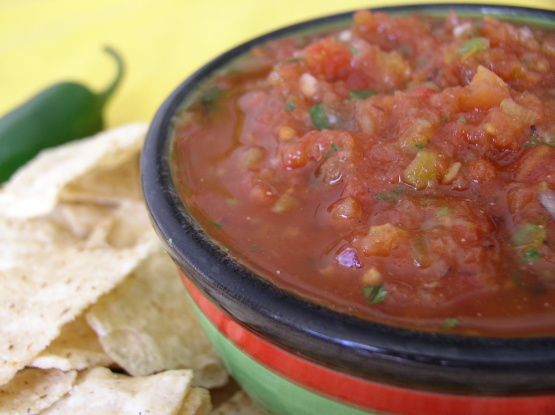 I found it! This is my favorite salsa. This is better than my Hotter n Hell. This is hot!

Top Review by Laudee
To: Paula Giles Your Easy Homemade Salsa is just dandy! I put it together and used it in Mysterygirl's Streamline Chimichangas. Sure made a fast and tasty dish. The two recipes certainly complimented each other. Thanks so much for sharing. My compliments to both of you gals. Sincerely, Laudee
In a food processor, add onion and jalapeño and process to your liking (if you want chunky, don't process very long).
Add Rotel, tomatoes and juice, green chilies and process.
Put in bowl and add spices.
Chill for a couple of hours for flavors to combine.
PS If you are brave you can add 2 cans of hot Rotel.