Paula Deen's Baked Garlic Cheese Grits
Prep 10 mins
Cook 50 mins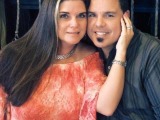 From food network's Paula's Home Cooking Show.
Directions
Preheat the oven to 350 degrees F.
Grease a 4-quart casserole dish.
Bring the broth, salt, pepper, and garlic powder to a boil in a 2-quart saucepan.
Stir in the grits and whisk until completely combined.
Reduce the heat to low and simmer until the grits are thick, about 8 to 10 minutes.
Add the cubed Cheddar and milk and stir. Gradually stir in the eggs and butter, stirring until all are combined.
Pour the mixture into the prepared casserole dish.
Sprinkle with the white Cheddar and bake for 35 to 40 minutes or until set.
Most Helpful
These were excellent! Cheesy and full of flavor. Perfect side for any grilled meat and of course for brunch!
Before this recipe, I'd never tried cheese grits before. I'd had grits before and thought they were just "ok", nothing special. But then I tried this recipe and all I can say is, WOW! They are absolutely delicious! I couldn't stay out of them. Cannot wait to serve them to my grandkids and see what they think. I suspect they'll love 'em, too.
A recipe that transforms cheese grits from that of Clark Kent to Superman with command of quantum physics. In other words just when you think you're likin' it, you find yourself lovin' it even more.