Maito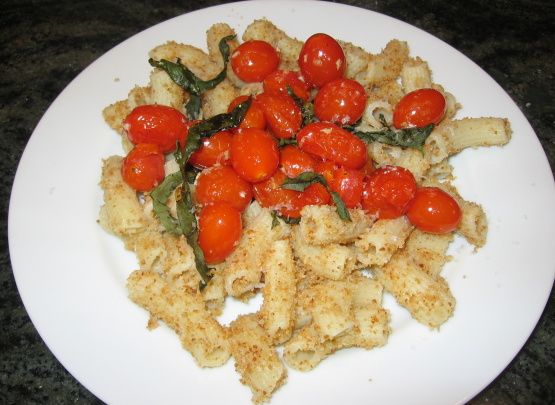 Chicago Tribune food Writer Joe Gray's Italian teacher's mother's recipe for a really charming pasta dish. Serve it with a side of broccoli rabe and you've got a lovely meal.
Heat oven to 350 degrees F.
Place the tomatoes on a lightly oiled baking sheet; divide the garlic and basil among the tomatoes.
Drizzle 1/2 teaspoon olive oil in each; sprinkle with the salt.
Cook until tomatoes soften and begin to shrivel but still hold their shape, about 30 minutes.
Meanwhile, heat a large saucepan of salted water to a boil over medium-high heat; add the capellini. Cook until al dente, about 8 to 10 minutes; drain.
While pasta is cooking, heat the remaining olive oil in a large, heavy skillet; stir in the bread crumbs.
Cook, stirring, until crumbs brown and become crispy, about 4 minutes.
Toss the pasta with the bread crumbs; divide evenly among 4 pasta bowls.
Nestle a tomato carefully in each bowl.
Top with cheese.
Serve, allowing diners to break up their own tomato and eat with the pasta.