gailanng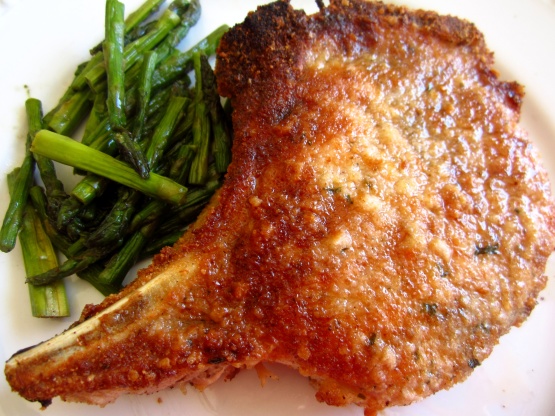 This is so delicious! My mother-in-law made it for us and I have made it ever since. It came from a magazine--I don't know what one but this is amazingly good! This makes a lot of crumbs. I froze mine in a ziplock and also used it on chicken. Enjoy!

I made this wonderful recipe for my husband tonight and he said they have to be the best pork chops he has ever tasted! I did everything exactly like the recipe called for and used Progresso Italian Style Bread Crumbs. Thanks for the recipe, Donna! I will definitly make this many, many more times!
preheat oven to 425F degrees.
Mix in bowl, bread crumbs, grated parmesan cheese, dried rubbed sage and grated lemon peel.
Then, on a plate put flour seasoned with salt and pepper; coat chops with flour.
Dip in egg.
Then dip in bread crumb mixture.
Melt butter and olive oil in a oven-proof skillet.
Brown chops until golden.
Transfer to oven and bake until meat thermometer says 150 degrees, about 20 minutes.