PaulaG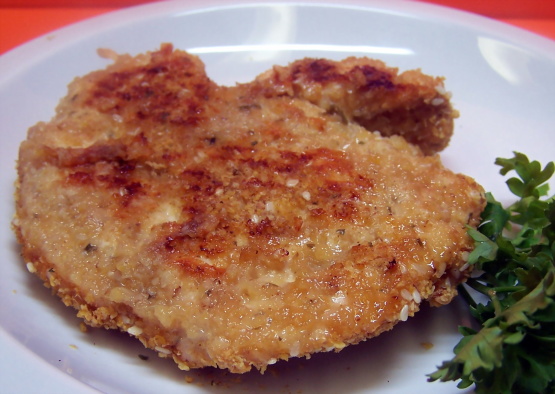 I like this recipe because it is easy to prepare, and my family loves it.
Top Review by PaulaG
This is one of those recipes that you don't get hung up making. It leaves a lot for personal preference. The breadcrumbs were my own homemade breadcrumbs. I had a large boneless breast, which I cut in half, flattened and breaded to serve to 2. The chicken was placed on a cookie sheet lined with parchment paper. It was moist and delicious.
chicken piece (whichever pieces you prefer)
seasoned bread crumbs
Preheat oven to 350 degrees.
Place chicken pieces in a bowl and cover with water.
Pour bread crumbs into a small bowl and Parmesan Cheese into a separate small bowl.
Take chicken pieces out of water one piece at a time and roll in bread crumbs, then in Parmesan Cheese.
Place on baking pan and put in oven.