Pan-Roasted Cauliflower With Pine Nuts, Garlic and Rosemary
Prep 15 mins
Cook 40 mins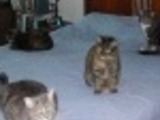 My BF found this recipe in a recent issue of Cottage Living, courtesy of Sara Foster. We both love cauliflower, and this recipe gives it a nice crunch and nutty taste. Another recipe to leave in the oven while you are taking care of the rest of dinner. We cut down the 1/4 cup olive oil to about a tablespoon. Leave it as is if you are not concerned about fat intake.
Directions
Preheat oven to 400 degrees F.
Place cauliflower in roasting pan and toss with rosemary and next 3 ingredients. Roast for 20 minutes.
Add pine nuts and garlic, toss to combine. Roast 10 minutes, rotate pan, and roast 10 minutes more or until golden brown. Sprinkle with breadcrumbs, and serve warm.
Recommendation: while cauliflower is roasting, toast a slice of bread in the toaster. When done, place in blender and process until crumbly. Sprinkle on top of cauliflower when done.
Most Helpful
Even people who don't like cauliflower ask for seconds of this! I used one head of cauliflower, 1/8 c olive oil and about 1 t rosemary. I kept the rest of the ingredients as the full amount in the recipe. Next time I would use more rosemary, but other than that it worked well. I'd never cooked cauliflower for my family because they don't like it. But with this recipe, everyone loved it and commented on how delicious it was! Thanks for sharing!

This would be equally good with other vegetables: romanesco, broccolini, broccoflower. Used fresh rosemary from the garden and my own homemade breadscrumbs made out of focaccia, too. Be careful when roasting the pine nuts and garlic. You don't want them to burn! Thanks, Kumquat! cg ;)

Makes an excellent side. I left off the breadcrumbs and added grated parmesan.