Pan-Poached Salmon Piccata
CandyTX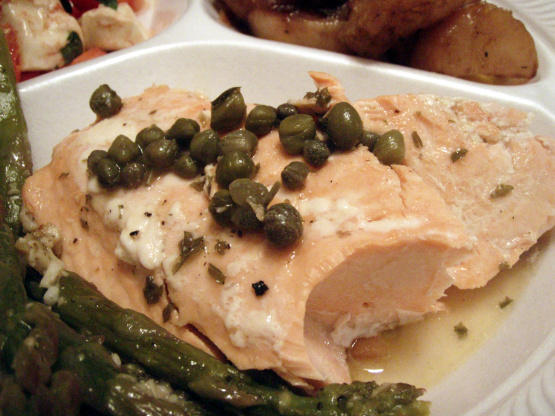 This is one of Tom's special meals that he makes when we are having company (or when I bug him enough, I LOVE salmon)... it makes a beautiful dish and it absolutely wonderful! This is from another recipe and he's adjusted the ingredients a bit to our tastes, it's easy to play around with, so feel free!

This was delicious! Even my husband, who is not a salmon lover, complimented me AND ate it all! I made it according to the directions except I added the juice of 1 lemon (not sure how many TB this is, but it was just right) and an extra TB of butter. So yummy! This meal will be added to my regular rotation!
Bring water and lemon juice to a boil in medium-sized skillet.
Stir in chicken bouillon granules.
Reduce heat to a simmer and place salmon fillets in pan.
Cover and simmer over low heat, 10 minutes per inch of thickness, measured at thickest part; or until fish flakes when tested with a fork.
Remove salmon from pan; keep salmon warm.
Boil remaining liquid in the skillet until it is reduced to approximately 1/4 cup.
Whisk in butter and stir in capers.
Spoon sauce over fish.
Season with pepper and sprinkle with parsley.