Pan Grilled Chicken with Avocado and Red Onion Salsa
popkutt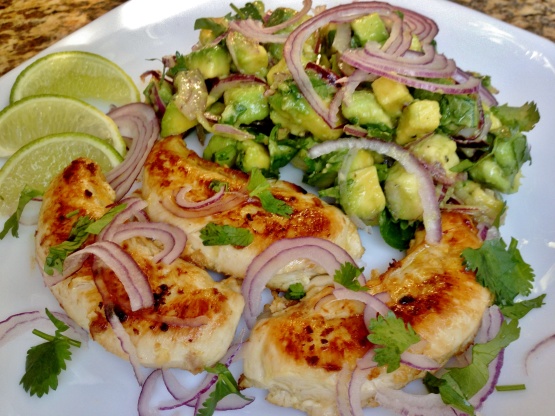 A wonderful combination of flavors and color. Quick and easy for week day meals and a wonderful entree for a dinner party. Joining Zaar has reunited me with many old favorites long lost in my 35 year old collection of recipes. This recipe, written on the back of a sales slip, probably came from a doctor's or dentist's office as I looked through magazines while waiting to be seen.

Lorac, I really liked the flavor combinations in this dish. I used red cabbage and the presentation was so colorful. Thanks for posting!!
Whisk marinade ingredients together and pour over chicken, marinate 20 minutes.
Add oil and chicken to a hot heavy skillet and brown on both sides, reduce heat and cook until juices run clear.
While chicken is cooking, mix salsa ingredients together, season with salt and pepper, and stir in coriander.
Serve chicken and salsa on individual plates garnished with red onion, lime and cabbage.