Oven-Roasted Corn on the Cob
Hadice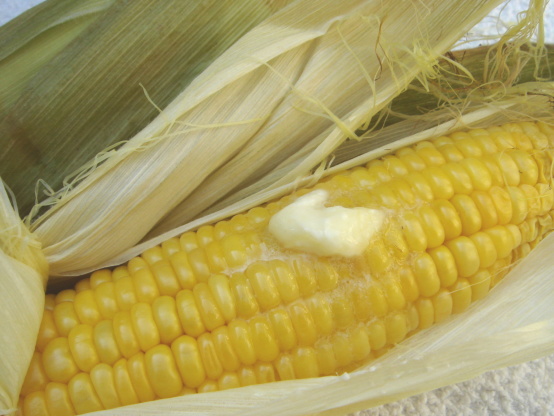 I was surprised not to see this one on Zaar! Tyler Florence said, "Once you try this, you'll never have corn on the cob any other way." We agree wholeheartedly! The corn steams and cooks in it's own husk without any pre-soaking or anything. The corn's flavor is intensified right in the husk! After removal from the oven, just pull back the husk and use it for a handle. The silk comes off with the husk! Let me know if you like corn this way as much as we do!

Top Review by pat
2001 ended with role reversal due to my wifes stroke. Cooking has become a welcome quest with unbelievable challenges. In point corn went from on the cob to can off the shelf for the ensuing 16 years, till I happened on Food.com. This simple and quick preparation of corn-in-the-shuck to table is as magic as my discovery of Chinese Sweet potatos cooking for 3 and one-half hours at 300 degrees and baked Vidalia onions baking in their own juice prompted a gathering of six friends with a glass of white wine and a decadent dessert with glasses raised to my culinary prowness! I'll never tell! Pat
6

ears corn on the cob, in their husks (Or however many will fit in your oven.)
water, to rinse them
Preheat oven to 350°F.
Rinse ears.
Place corn cobs directly on middle rack in oven.
Bake for 30 minutes.
Remove corn cobs. Pull back husks and enjoy!