Oven-Baked Fish Sticks With Easy Tartar Sauce (Kid-Friendly)
V.A.718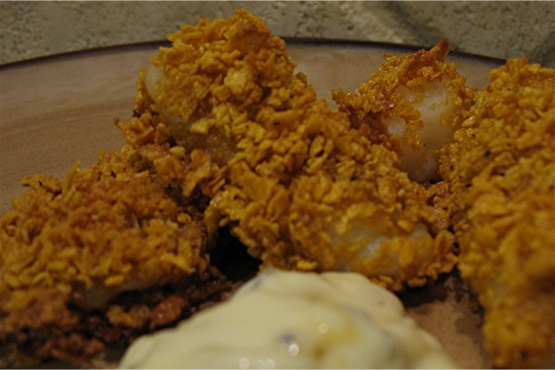 Although cod is stated in the ingredients this recipe will work good using tilapia or white fish fillets. This will serve about 3 people, but can be easily doubled. The already crushed cornflake crumbs that you purchase in a small box will not work as well for this recipe, the texture is too fine and the fish sticks will not be as crispy, try to use regular cornflakes cereal and grind them in your processor. You can double the tartar sauce recipe if you prefer more sauce, try to make the sauce even up to a day ahead to blend flavors. This is a great recipe for kids of all ages LOL!

I didn't rate this one because I only made the tartar sauce. This was my first experience eating tartar sauce and making it. The recipe was simple and very tasty! The only change I made was chopping up some pickles because I was out of relish. It went so well with the fish and tasted fresh with the lemon. Definitely making this again :)
Set oven to 475°F (set oven rack to second-lowest position, or the middle rack).
In a bowl mix together the mayo, sweet relish, garlic powder and lemon juice; whisk to blend, and season with salt and pepper, cover and refrigerate until ready to use.
Process the cornflakes with a pinch of seasoning salt and black pepper on a processor until coarse crumbs form (leave the crumbs coarse, don't grind them to a fine texture) transfer the crumbs to a bowl and mix in lemon peel.
In a small bowl mix together the melted butter with about 2-3 tablespoon fresh lemon juice until well combined.
Season the fish with black pepper (and more salt if desired) then brush the fish with the lemon butter to coat on all sides.
Dip the fish into the cornflake mixture coating completely.
Arrange the fish on a lightly greased baking sheet.
Sprinkle with any remaining cornflake mixture.
Bake fish for about 7-10 minutes (depending on the size of the fish strips).
Serve with the sauce.