Outback Steakhouse Honey Wheat Bushman Bread
PaulaG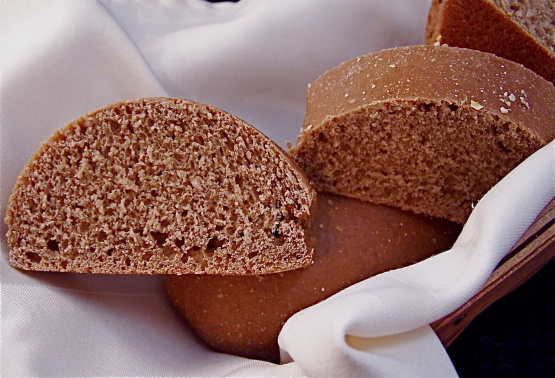 This is a copy-cat recipe for the delicious bread they serve at the restaurant.
I made this recipe with my kitchenaid standmixer and I actually needed to add a little extra water. I put everything in the mixer except the water and yeast first. Combined these ingredients and then added a full tablespoon of yeast which I proofed in the water. I mixed it with my bread hook attachment. I made as directed otherwise and it was very yummy.
Place all of the ingredients in the bread machine in the order listed, and process on dough setting. The dough will be a little on the wet side and sticky but if it seems too wet, add more flour. When dough is done, let it rise for 1 hour.
Remove from pan, punch down, and divide into 8 portions. Form portions into tubular shaped loaves about 6-8 inches long, and 2 inches wide.
Sprinkle the entire surface of the loaves with cornmeal, and place them on 2 cookie sheets. Cover and let rise for 1 hour.
Bake at 350 degreees for 20-25 minutes. Serve warm with whipped butter.
Note: This recipe is best when prepared by these instructions.
Deviate at your own risk.