Our Iraqi "timman" -- Rice
Annacia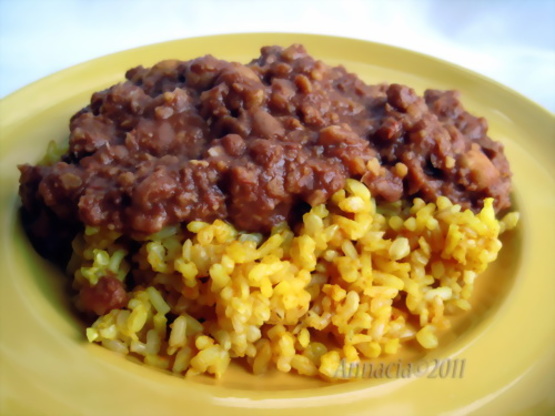 pretty much the base food for every meal that we cook. the "hikaka" at the bottom is an absolute must.. its an arab delicacy lol. note, if you try it, that the water amount probably isnt accurate. i dont measure things with a measuring cup-- just cover the rice with about 1/2" of water. also for easier removal, this works best with a nonstick pot

This was made to accompany Recipe #437898. I loved t and will use this rice again. I did use a bit less turmeric for personal taste and as with the chef I don't measure water either and cooked it just as she does. It's a beautiful color, delicious and cooks just the same as plain rice. Whats not to love? Made for PAC, Spring 2011.
1. dump oil into pot, heat on medium high.
2. add dry rice, salt. saute about a minute or so. do not stir it after this point.
3. add the water, and turmeric. as i said, no exact amount. fill the pot and cover the rice about 1/2" with the water.
4. allow to come to a rapid boil, and then reduce the heat to medium/low (or about a 3).
5. cover the pot, and do not open for at least 30 minutes.
to serve, dump the pot upside down on a serving platter. the "hikaka" will be on the top of your rice. it's just crispy "over cooked" rice, but it's unbelieveably delicious :).