J-Lynn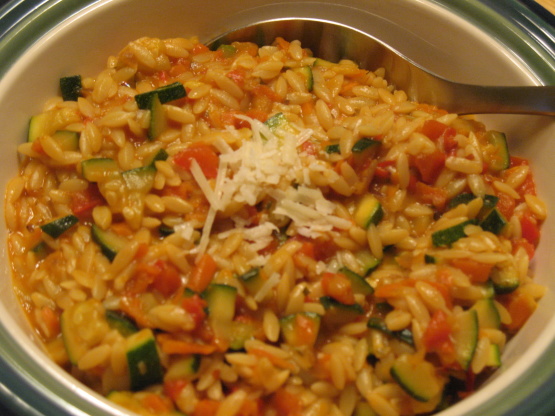 A colorful pasta dish, which can be served as a side dish, as a lunch and is particularly good for a buffet as it does not mind sitting around and tastes just as good at room temperature. I like this recipe because everyone in my house likes it (a rare occurrence) and because any vegetable can be substituted as long as it is cut up small. For vegetarians substitute vegetable stock.

This recipe is a great find! I had an orzo primavera recipe that was similar - but the tomato sauce, cream and cheese - make this almost like grown-up macaroni and cheese. It is easy to prepare and has a great look! It is so creamy and reheats beautifully. I am a personal chef and have had such success using Recipezaar recipes without testing and I have to thank great recipe submitters like Melanie - now this is one of my favorites - for me AND my clients!! Thank you!!
Cook orzo with salt according to packet instructions.
Heat the oil in a large frying pan.
Sauté red pepper and carrot on a low heat for 10 minutes until softened.
Increase heat to medium and add green onions and garlic and sauté for 2 to 3 minutes.
Add the squash, zucchini and tomato and cook for a couple of minutes more.
Add the tomato sauce and stock.
When the sauce comes to a simmer, turn heat to low and stir.
Stir in the drained orzo.
Stir in the cream.
Stir in parmesan cheese.
Remove from heat.
Add salt and pepper to taste.
Can be served immediately, or at room temperature.