Orange Roasted Chicken and Vegetable Avalanche
PaulaG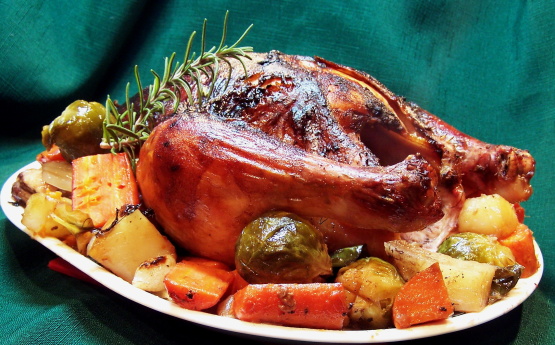 ------It doesn't get any easier than this! Roasted chicken complete with loads of fresh vegetables. Serve with fresh bread for a complete meal. Developed for RSC #9.------

My friend and I loved this roasted chicken, but I do agree with Zurie that to give it 5 stars in a contest it was not quite perfect and unique enough. I also agree that the soy sauce could have been used in this recipe as well. However, in contrast to Zurie I had lots of juice in the pan which was great. I did not use the brussels sprout because I don't like it, but used more of the other vegetables. Thank you for creating this recipe. It made a lovely dinner.
Preheat oven to 425 degrees.
Wash chicken and pat dry with paper towels, place in shallow roasting pan.
Roll oranges on counter top to soften, juice oranges and measure 2/3 cup of fresh orange juice; reserve.
Rub the outside of the chicken with a juiced orange half, discarding the orange when through; salt and pepper the chicken inside and out.
Place the garlic, celery, and rosemary in the cavity of the chicken along with half of a juiced orange.
Trim the top off the fennel bulb and place one stem with leaves intact in the cavity of the chicken.
Remove any tough outer leaves from the fennel bulb; cut bulb into half then into fourths lengthwise and cut fourths in half; wash under running water.
Peel the potatoes and cut into 1 inch chunks, placing in a bowl of cold water to prevent discoloration.
Scrub carrots and cut into 1 inch chunks.
Trim the ends off the brussel sprouts, wash removing any discolored outside leaves and with a sharp knife score each end with an "X".
Drain the potatoes and combine all the vegetables; place around the chicken.
Pour orange juice over the chicken, then the melted butter.
Pour the chicken stock over the cut vegetables.
Place pan in preheated oven and roast for 1 to 1 1/2 hours or until chicken registers an internal temperature of 180 degrees through thickest part of thigh at joint with a meat thermometer.
Baste the chicken and vegetables every 20 to 30 minutes with pan drippings.
Remove chicken from pan and place on serving platter, cover and allow to rest 15 minutes before carving.
Remove vegetables to a serving bowl and strain pan drippings.
Serve the chicken and vegetables topped with pan drippings if desired.