Orange Oat and Flax Bran Muffins
Prep 20 mins
Cook 20 mins
I got this recipe from the food column of our newspaper a long time ago, but I think it was originally from Outspan Oranges. I have made alterations to the recipe, using dry buttermilk powder, and changing the raisins to either dried cranberries or fresh blueberries. The original recipe just cut the oranges into quarters, and blitzed them in the food processor, but I prefer to zest them with a microplane grater, peel off the pith, and chop them finely, reserving the juice to add with the liquids. I often add nuts to the batter as well. If using buttermilk powder, (I use 1/3 cup), mix it with the flour, and add 1 cup of warm water to the wheat bran and let it cool before mixing with the other ingredients.
Directions
Preheat oven to 375°F.
Mix all dry ingredients together in a mixing bowl.
Place oranges in a food processor and blitz until finely chopped.
Add other liquid ingredients, and blitz until combined.
Pour liquids into mixing bowl and combine with the dry ingredients until just barely incorporated.
Scoop into 24 medium greased muffin cups and bake for 18-20 minutes until browned.
Reviews
Most Helpful
These muffins were very moist and delicious. I love the mix of grains used in them! Only thing I would do differently next time is pulse the orange flesh in a food chopper to be sure that it was completely chopped down. I used a cutting board this time and did not dice fine enough, hence a few tart spots in places. But otherwise I LOVED these muffins. You'd never guess they are this healthy. Can't wait to make them again! [Made for Zaar Alphabet Soup]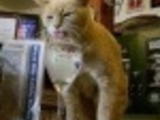 Delicious! Thank you.
I made these according to the recipe, subbing dried cranberries for raisins. They were good, very nice texture. They tasted somewhat bitter, though, so I would probably recommend grating the peel and discarding the pith, as recommended in the description, instead of using the whole peel. Very healthy, though, and tasty with some margarine and jelly.