Orananna Goodness Smoothie (Raw Food)
jenne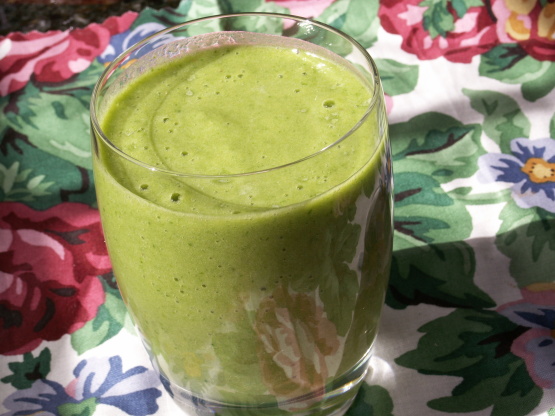 Another recipe from the internet, it's said to be one fantastic green smoothie! Zaar does not recognize one of the FIVE ingredients to be included in this recipe, so here it is -- One Aloe Vera leaf, filleted!
Yes, Sydney Mike! A winner. I look for good sales on bags of navel oranges, and keep a bag of peeled chunks in the freezer (along with nanner chunks, peeled when they've begun to freckle) so that I can always make one of these when the mood hits. And what a terrific use for the last of a bag of spinach. The mood hit about five minutes ago, and I'm sipping one as I type this! (And thanks, JanuaryBride, for the idea of turning them into popsicles! We're expecting our first grandDilettant(e) this summer, and I've begun a file of Sneaky Vegetable recipes---this goes in, for sure!)
2

bananas, frozen

1

orange, large, peeled (leave white pith on!)

1

cup orange juice, fresh (more if needed)

2

cups baby spinach leaves
Put all ingredients in blender & puree at high speed.
Pour into 2 tall glasses & enjoy!