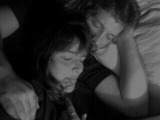 This is a great quick dinner or lunch for those busy days.
2 (10 3/4 ounce) cans cream of chicken soup
1 cup 2% low-fat milk (I fill 1 can from the empty soup cans)
1 (15 ounce) can Veg-All, drained (mixed vegetables)
2 cups cooked chicken, cubed (leftovers or saute' cubes in oil, butter and some spices)
1 teaspoon Worcestershire sauce
1⁄2 teaspoon ground sage
salt and black pepper, to taste
12 slices white bread
chopped parsley, for garnish
Directions
In a 2 quart pot over medium heat, cook cream of chicken soup and milk, stirring constantly, until warm.
Add canned vegetables and chicken. Cook until heated through.
Season with Worcestershire, sage, salt, and black pepper. Place 2 slices of bread on each plate, slightly overlapping.
Spoon chicken mixture over top. Sprinkle with chopped parsley and serve.
Reviews
Most Helpful
This was very very good and easy to prepare thanks for the great recipe
You said it - great, quick easy! I used frozen mixed veggies (don't like limas!) otherwise made as specified. The worcestershire and sage really perked up the flavor of the creamy sauce. Served this over Italian Casserole Bread and really enjoyed this no-fuss meal - thanks for posting the recipe!

MMMMmmmm this is nothing short of great comfort food. I did omit the veggies as I served this over refrigerated biscuits and also left-over - recipe3267637. The latter was perfect for this type of meal. It's very important that you use only a fuller fat milk and not skim. I had only skim on hand and so used 1/2 cup skim and 1/2 cup 1/2 and 1/2 creamer. This makes a very meal in one:-) Made for PRMR~