Open Faced Bacon and Cheese Sandwich With Jalapeno Jelly
Ms B.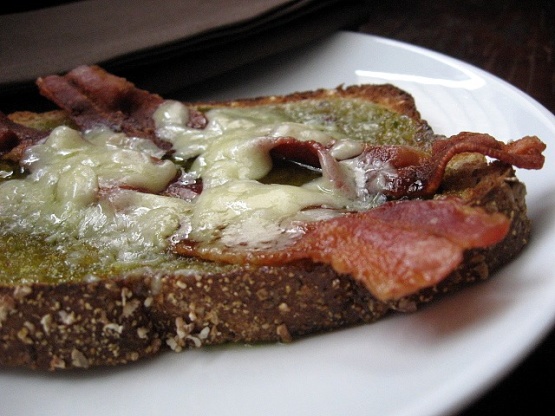 From Ladies' Home Journal magazine February 2006. I added the bell pepper and cilantro for color. The jalapeno pepper jelly was a jar I picked up at the farmers' market.

Top Review by Ms B.
OK...so, my raging hormones said to forget the red pepper and cilantro because those ingredients didn't have enough fat, salt, or sugar content. But, the spicy sweetness of the jelly, the crispy smokiness of the bacon, and the sharp, beautiful flavor of white cheddar on my sandwich incredible. Yum. I can't wait to make this again.
Preheat oven to BROIL.
Spread each slice of toasted bread on one side with the hot pepper jelly.
Divide and place the cheese, a bell pepper slice and the bacon on each slice of bread and broil just until the cheese starts to melt.
Cut slices in half, garnish with cilantro and serve hot.