Oodles of Noodles - Herbed Variation
Lainey39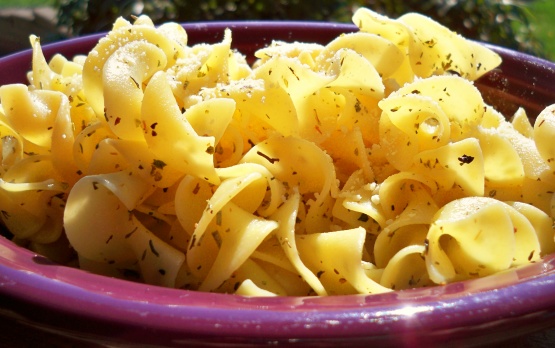 These noodles are wonderful if you need a quick side dish. They use ingredients you may already have in your pantry making them a great last minute dinner addition. The recipe comes from Canadian Living's Make It Tonight. Suggestions for herbs: basil, oregano, parsley PS: After two reviews suggested it, I have changed the ingredient list to say butter or olive oil rather than olive oil. Thankyous to the reviewers for suggesting the improvements.

A friend of mine used to make a dish very similar to this whenever she was low on funds. I definitely agree that the butter is better than oil. I liked fresh basil with this, but the nice part about it is that you can change up the herbs depending on what else you're serving. Thanks for posting!
Cook noodles in a large pot of boiling salted water until tender but still firm (about 8 min).
Drain noodles, reserving 1/4 cup of cooking liquid.
Return noodles to pot.
You may moisten the noodles with reserved water if desired.
Toss with remaining ingredients and serve.