MSR5055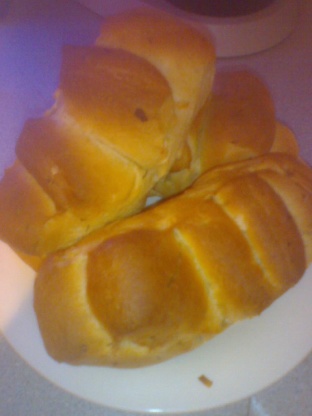 I wish you could see the picture for this bread. It looks like a golden, flakey deck of cards standing on end!...and the oniony aroma of the baking bread is out of this world! If you don't like the flavor of dill, it can be omitted and the bread will still be delicious. Prep time does not include rising time.

Thank you M&Mer...i can't think when i have produced such an attractive loaf of bread. Very impressive for company fare. I nested each of the loaves in a wicker basket lined with green gingham napkins and indeed they were the centrepieces of the cookout buffet table. Not only did they look wonderful; they tasted as good as they looked. Freshly made they were rather reminiscent of a savoury croissant, and for me the dill and onion added just the right touch.I made available ramekins of dill and regular creamy butter for those who choose, but by and large everyone ate the fresh bread as was. This recipe will be a must for all our future cookouts. (prepared for COOKOUT Cookaton/ July 1st – 4th /2002)
In small saucepan, combine sugar, milk, 1/2 cup butter and salt.
Cook on medium heat until butter is melted.
Cool to warm (105-115F).
Meanwhile, in large bowl, dissolve yeast in 1/2 cup warm water.
Stir in minced onion and only 2 1/2 tsp dillweed.
Add milk mixture, 2 beaten eggs and enough flour to make dough easy to handle.
Turn dough onto lightly floured surface and knead until smooth, about 8 minutes.
Place dough into a greased bowl; turn greased side up.
Cover and let rise in a warm place until double in size, approx.
1 1/2 hours.
Punch down dough and divide in half.
Roll half of the dough into a 24 by 8 inch rectangle.
Spread with 2 tbsp butter.
Cut crosswise (not lengthwise) into 6 equal pieces.
Stack on top of each other, buttered side up.
Cut stack again, crosswise, into 5 equal pieces.
Place cut edge down, in a greased 9 by 5 inch loaf pan.
Repeat with remaining dough and butter.
Cover, and let rise until double in bulk (about 1 hour).
Preheat oven to 350F degrees.
Bake loaves for 25-30 minutes or until lightly browned.
Meanwhile, in small bowl, stir together egg yolk and 1 tbsp water.
Brush each loaf with egg mixture and sprinkle with remaining 1/2 tsp dillweed (1/4 tsp each loaf).
Continue baking for 4-5 minutes or until golden brown.
Remove from pan immediately.