katew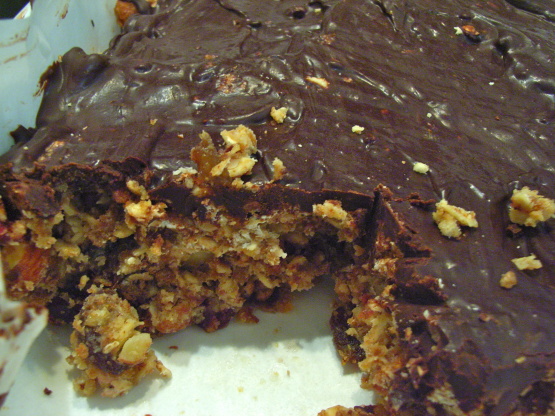 Taken from Super Food Ideas and thought would be good (but not suitable for a family of diabetics) but did think to make it for DS's recreation group but would much rather give them a recipe that it not my own to give that recipe a review. Hopefully someone will think likewise and give this one a try.

This recipe looked so good, but I was a bit disappointed. I thought the sultanas were a bit strong and perhaps the slice could have benefitted from more chocolate on the inside and on top? I followed other reviewers and baked at about 160C but did so for about 50 minutes, and I still felt when I tasted it (after cooling) that the peanuts could have used more baking time for more of a roasted taste. None of my family members loved it, though we working our way through it. A new Zealand friend loved it and wants the recipe, though, so perhaps my family are choco-holics.
I too used a whole can of evaporated milk.
Preheat oven to 190c (or 170c fan forced).
Line a 26cm x 16cm lamington pan with baking paper.
Place coconut, nuts and fruit in a large mixing bowl.
Add milk and 1/4 cup of choc bits, mix well to combine and coat ingredients.
Press mixture evenly into pan and cover with foil.
Bake for 20 minutes, uncover slice and reduce heat to 160c (140c fan forced) and bake for a further 20 minutes more or until firm and golden; remove pan from oven.
Immediatly scatter 3/4 cup of chocolate bits over hot layer and allow to melt and using a flexible spatula spread the chocolate evenly.
Cool and cut into slices.