Oatmeal Raisin Bran Cookies
Asha1126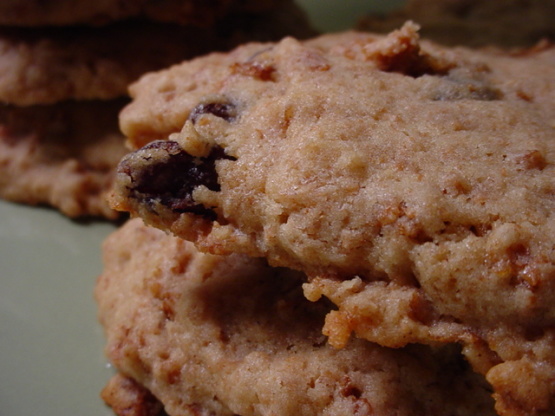 found these a while back and used it to use up some cereal. I never make cookies without parchment paper! lol

These were really good. My kids, except for my 7 year old raisin hater, ate them up. Hubby liked them too. I have only one question: Where's the oatmeal? BTW, they didn't stick to the baking sheet.
Preheat your oven to 325°F.
In a bowl combine cereal, wheat flour, and flour; set aside.
In a larger mixing bowl, cream your butter and sugars til fluffy and airy.
Add eggs, one at a time, beating well after each addition.
Stir in flour mixture until combined well Drop by quarter cup measure on to an UNGREASED baking sheet.
(if you're paranoid like me, go ahead and use parchment paper).
Bake 12 to 13 minutes or until lightly browned.
Remove from baking sheet and then cool on a wire rack.