Redsie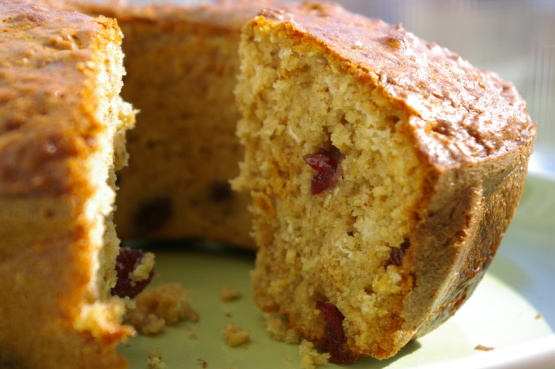 I clipped this from the newspaper, gave it a try and it's delicious! Very moist and flavorful, it could be served any time! After making it the original way first, I then tried it adding chopped walnuts and raisins and it was really good too! You could even drizzle it with a confectioners icing to dress it up. People are so creative, you could probably add just about anything to call it your own! :) Freezes well too!

Per DH's instruction I am giving this 5 stars :). His logic: contains oatmeal (1 star), graham crackers (2), yummy bundt-pan crust (3), blueberries (4 had some frresh and added 'em), and cake for breakfast (5). LOL these are a few of his favorite things! I omitted the white sugar and added the berries and 1 t vanilla, and used applesauce like Maito and egg sub for 2 of the eggs. This is a great base recipe that you can alter according to your mood--coconut and coconut extract, dried cherries and almond extract...you get the idea. Thanks for posting! Made for Healthy Choices 2008.
Preheat oven to 350*.
Coat a 12 cup bundt pan with cooking spray.
Combine flour, oats, crumbs, sugars, baking powder, baking soda, cinnamon and salt.
In separate bowl, whisk together oil, buttermilk and eggs.
Add buttermilk mixture to dry ingredients and whisk until combined.
Pour batter into prepared pan.
Bake 40 minutes or until wooden pick inserted in the center comes out clean.
Cool on a wire rack for 5 minutes.
Remove from pan; cool completely on wire rack.