Nuts and Pears Cheesecake
awalde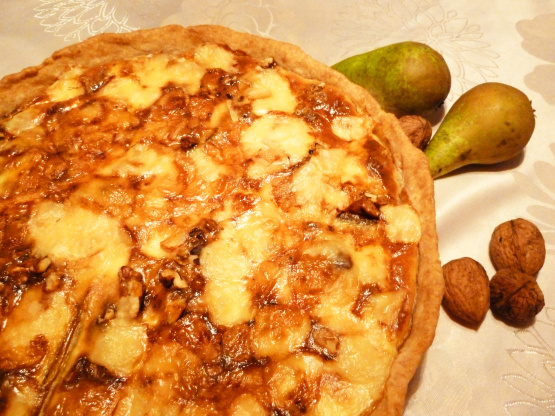 From a Swiss magazine with a lot of very "Swiss" ingredients! Can be served simply with some green salad. Note: You can use your favorite pie crust or make a dough with 3/4 cup whole wheat flour, 3/4 cup all-purpose flour, 1/4 cup vegetal oil, 1/2 teaspoon salt and 1/3 cup cold water.

Loved your cheesecake recipe & will be keeping it around for a while, for sure! Used the Gruyere cheese as well as 3/4 cup of California walnuts, & it was delicious! Thanks so much for sharing it! [Tagged & made in Please Review My Recipe]
Roll out the dough (10-11 inches depending on you pie pan ) on a floured surface and transfer the dough to the pie pan.
Preheat the oven at 350°F/180°C.
Place pear slices on the dough and distribute the walnuts on them.
Top with the grated cheese.
In a bowl wish together milk with egg and add pepper, nutmeg and salt to taste (be careful with salt as the cheese is salted as well).
Poor the egg mix on over the cheese.
Bake about 40 minutes in the middle of the oven at 350°F/180°C and serve warm.