North Croatian Sour Turnip With Pork Meat
nitko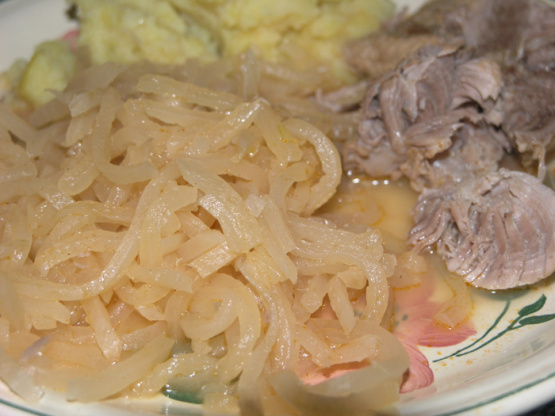 In Croatia you can get sour turnip which is made very similar to sauerkraut. In some parts of Croatia (Slavonija) turnip is regarded as pig's food. Only 250 km to the West (in Zagorje) turnip is regarded as a regular winter stew. We also mix sour turnip with beans. Sour turnip goes excellent with blood sausages and potato (mashed or "restani") if you don't cook meat in it.. This is my grandmother's recipe.
Melt lard and fry flour until brownish. Add garlic and red dried paprika and just a little cold water.
Make creamy mixture ("zaprska") than add sour turnip (in Croatia it is sold sliced like spaghetti) pork meat (in one or two pieces), turnip brine, pepper, bay leaf and water if necessary.
Cook 30 - 50 minutes on low fire until turnip is soft but not too soft.