North Croatian Farmers Cheese Dumplings
nitko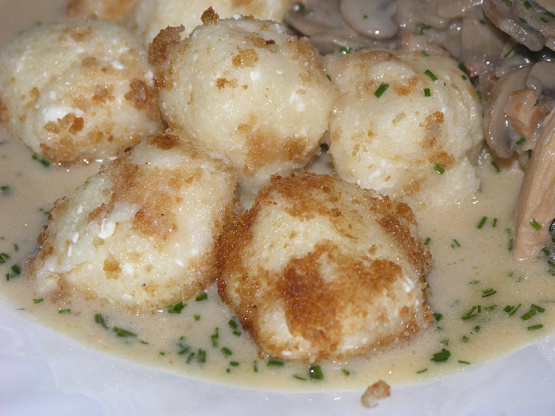 This is very old recipe, mostly forgotten. Today, everyone makes potato dumplings or gnocchi, but believe me, this one are much better. Even more, you can eat them as a side dish to meat and sauces, also you can eat as a full lunch and even as a dessert – you just have to put sugar and cinnamon over. You can add whatever you want, poppy seeds, and raisins, chocolate or vanilla sauce. Perfect dessert. It is also very simple with just few ingredients. Note: for vegetarians, skip lard you can use oil as well.

This was very reminiscent of a Lithuanian cheese dumpling that Mother used to make, except that we do not use lard or semolina flour. It is so interesting how many dishes cross borders, modified by what is the most available grain or protein locally. This is very much a farm dish, as milk and eggs would always be available. I made half the recipe, using lard, and it made about 3 servings as a main dish, served with butter and sour cream. I'd also serve this with a bacon sour cream sauce. This would make an excellent side dish.
Mix well whole eggs and lard. Drain the cheese and add into eggs. Add whole semolina, mix well and leave at least two hours in refrigerator. Longer it stays in refrigerator, better dumplings.
Heat large pot with water until it boils. Keep boiling.
Soak your hands in cold water and make balls; Golf-ball size. Put them one after another into boiling water and cook until they start to float on the surface and than 3-5 more minutes. It really depends how hard are your dumplings (that means you have to stick to the recipe).
To serve as a side dish to meat and sauce, fry some breadcrumbs on butter and put the dumplings into the pan, and fry with breadcrumbs just to stick it to the dumplings. Serve warm.