Bergy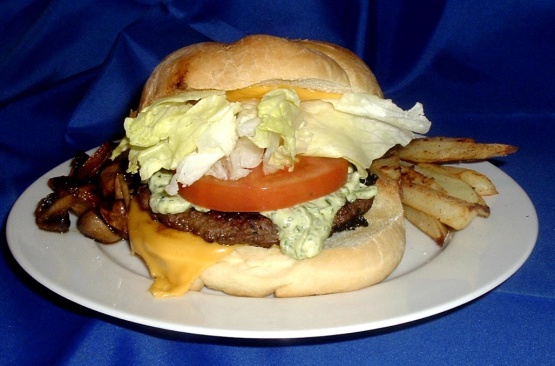 This is one of our favorites and all of my friends have loved it. Rich and spunky tasting. I found the idea in a grilling cook book and just threw stuff together so all the measurements are approximate. Make the mayo dressing first so the flavors can mix. You can make it earlier in the day or the day before. I don't think I'll ever go back to plain burgers again. I found the dressing great for other sandwiches so I like to make a larger batch.

I chopped the basil, jalapeno peppers and sun-dried tomates and threw them in the bowl with the ground sirloin and then read the instructions. Oops! I just mixed this all together and grilled them without the rest of the ingredients and the burgers were great! Served with Chipotle Aioli. Thanks for a good combination that I'll use again even if I didn't use your whole recipe.
2

lbs ground beef
1⁄4 cup finely chopped sun-dried tomato (oil packed is best)

1

egg

2

tablespoons plain breadcrumbs (approx)
salt & pepper (optional)
1⁄2 cup mayonnaise

2

jalapeno peppers, seeded and finely chopped
1⁄4 cup loose fresh basil
hamburger bun
spring greens
Chop the basil and jalapenos.
Mix well with the mayo and put in the fridge while making burgers.
Combine ground beef, tomatoes, egg, bread crumbs, s&p until well blended and form into burgers.
It's up to you what size and how many.
We like large burgers that are at least as large as the bun when cooked so I usually get about six.
Grill over a medium grill until desired doneness.
Serve on buns with dressing and spring greens or arugala.