ImPat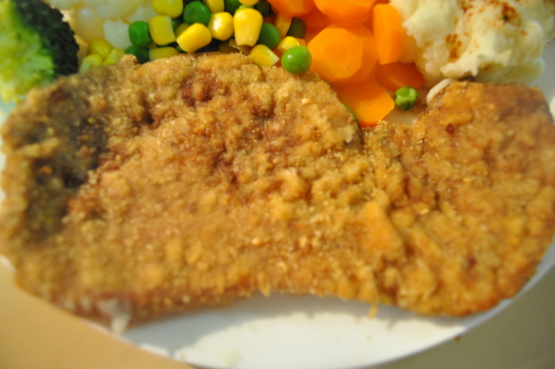 My grandma is know by everyone as Nan, and she makes awesome German food. This Schnitzel is one of my personal favorites. Makes 6-10 Schnitzels @ 2 per person. Good with 'German style Potato Salad' or 'Spatzle' and some sort of veggie like 'Brown Sugar and Dill Carrots'

Top Review by ImPat
A good basic crumbing mix though I had issues with the quantities - for just under 600 grams (just over 1.25lbs) for four people I used 1 60g (just over 2oz) egg, 2 tablespoons milk, 3/4 cup flour and 1 1/4 cups of breadcrumbs (some flour and breadcrumbs left over but that is the usual) for my 4 pieces of veal (sorry went looking for pork but got such a good buy on the veal I went with it) and cooked as per instructions with the exception I added salt and pepper to the flour and bread crumbs rather than to the meat for flavour. Thank you Nevaar for taking us back to the basics, made for Healthy Choices ABC.
6 -10

center-cut pork loin chops

2

cups flour

2

cups breadcrumbs

4

eggs
1⁄4 cup milk (so that it's like you were to make omelets)
Crack eggs into regular bowl and mix together with a splash of milk.
Put the flour and crumbs in their own regular bowls.
Pre-heat a frying pan with about a 16th inch Deep of oil.
lightly pound the chops thin with a meat tenderizing hammer. *MAKE SURE* you sprinkle salt on the pork when hammering it, or the schnitels will have no flavor.
Line up your bowls like so: Flour, Egg Mix, Crumbs.
Coat your tenderized chops in flour, then the egg mixture, and last the crumbs.
Fry them up in the oil till they are golden and brown.