My Lightened Veggie Version of Poppy Seed Chicken
KateL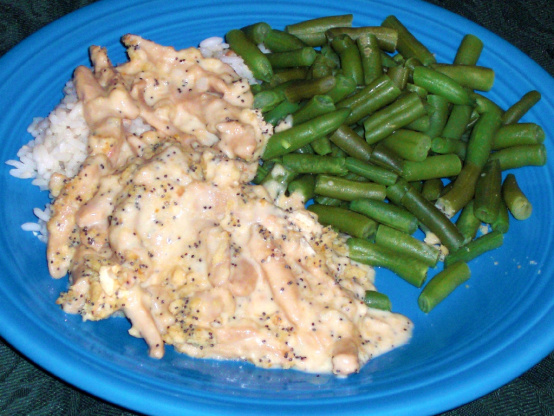 The original recipe of Poppy Seed Chicken Casserole belongs to diner524. When I made it to suite my needs she suggested that I post it as a new recipe. Here it is, it's very tasty and the fat has been trimmed significantly. diner524 adds the suggestion that this could be served with whole wheat pasta or brown rice.
I made this on Saturday for our dinner with every dish having "poppy seeds" in it (a total of 6 dishes including diner524's original Recipe #269300, several sides and a dessert). I am still on "poppy seed" over-dose. I cut this recipe in half, except for the soup. I used an entire can Cream of Mushroom to keep it completely vegetarian for son's GF. Baked it in an 8x8 baking dish. They loved it. I had to give her the recipe before they left. Thanks for posting. (Made for PRMR)
1

lb vegetarian chicken strips (may use up to 1 1/2 lbs for you want more or larger servings)

1

(10 3/4 ounce) can low-fat cream of chicken soup (may use 2 cans if it seems to dry to you)

8

ounces fat free sour cream
1⁄2 a stack saltine crackers, crushed

1

tablespoon poppy seed

1

tablespoon olive oil, no need to use the more expensive extra virgin here
Preheat oven to 350°F.
Mix two cans of soup with sour cream in a deep sided casserole and combine well.
When well mixed stir in the "chicken" until well separated and coated with the soup mix.
Place crackers in a plastic bag and gently crush them.
Add poppy and shake to mix and then over the chicken and soup mixture.
Drizzle the oil over the crackers.
Bake for 30-40 minutes until it begins to bubble around edges and the crackers are golden brown.