My Favorite Chocolate Frosting Glaze
My old Mennonite cookbook is on it's last legs, so I'm posting my favorite recipes before it falls apart completely. I love this chocolate frosting, it's meant for sheet cakes or brownies. Frost the cake right out of the oven - don't wait for the cake to cool!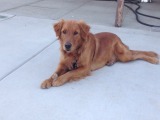 This frosting/glaze rocks!!! It was easy and oh so delicious. I just made a boxed yellow cake and poured this on top. My son loved it so much, he didn't even wait for the cake to cool a little. Thank you for posting.
Put butter, cocoa and buttermilk in bowl and heat in microwave until boiling, stirring occasionally.
Pour hot mixture into mixing bowl and add powdered sugar, vanilla and salt. Beat until smooth.
Pour over hot cake right after removing from oven. If using nuts, sprinkle over icing immediately.