CoffeeB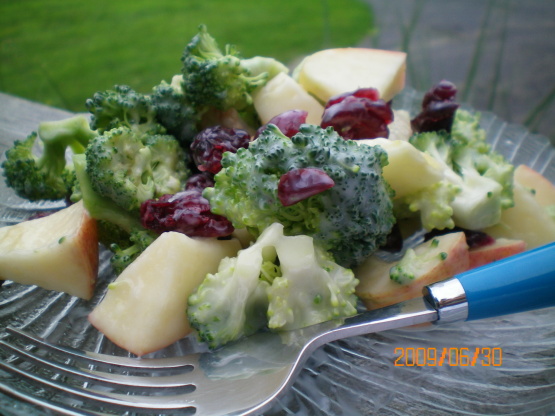 I eat this frequently for my snacks. This makes a LOT. I make it in the biggest bowl I own and store it in the fridge. That way it is always ready when I want a snack.
Chop broccoli up. Bite sized pieces are the nicest.
Throw in a large bowl.
Cut the apples into quarters. Core them. Leave the skin on though, it adds a nice colour and texture to the salad. Cut each quarter into three wedges. Then slice them into bite sized pieces.
Throw them into same bowl.
Toss youth mix and cranberries on top.
Cut orange segments in half (if using).
Toss in the bowl.
Scoop vanilla yogurt on top. I use two of those little yogurt cups for the vanilla yogurt.
Mix well. I find that two large wooden spoons works well. IT won't look like there is enough yogurt at first -- but keep stirring.
This can be served right away -- but the flavours are best when it has sat in the fridge for at least an hour.