Mozzarella Tomato Olive Cocktail Skewers
Cynna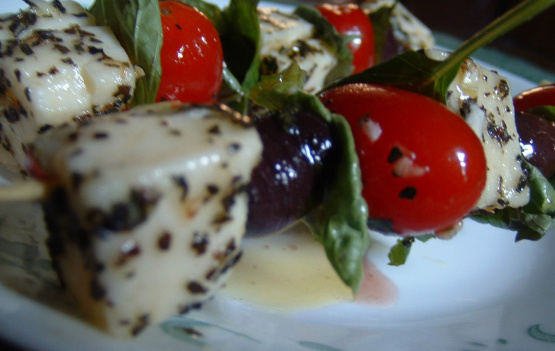 Colorful appetizers, and so simple to prepare and packed with flavor!

I served these with some bread and olive oil for our Easter dinner and they went over very well. The marinade was the perfect touch for the normally mild taste of the bocconccini. This is definitely something I will be making again.
Cut the mozzarella into bite sized pieces. If you are lucky enough to find the small balls, keep them whole. Place in a medium bowl and stir in the tomatoes, olives, oil, garlic, thyme, salt, pepper and red pepper. Cover and refrigerate 1-3 hours.
If basil leaves are large, cut into smaller pieces.
Thread the marinated cheese, tomatoes and olives onto skewers, placing the basil leaves inbetween. Place skewers on a platter; garnish with additional fresh basil. Enjoy!